"The New Pizza Place in Plainfield" – LaSpada's Pizzeria
I happened to be in a local firearms shop in Plainfield, Plainfield Shooting Supplies, last night and saw the employees had this huge pizza box onthe counter. So of course I had to find out where it had come from. One of theemployees said, "the new pizza place down on 40 brought it in for us totry". He didn't remember the name of the joint but, said the pizza waspretty good. So now my interest was peaked. I checked the box and there was noname, I knew I needed to further investigate for dinner. Pizza places are either a total hit or total miss withmy family. We like all styles deep dish, hand-tossed, New York, Chicago; it doesn't matter to us, as long asit is authentic and delicious! We headed down to find the "new pizzaplace" our only hint was it was next to a Mexican restaurant on 40. Weheaded west down Washington until finding LaSpada's Pizzeria logo-ed on awindow of a little building by El Meson. We had a name now. I immediately had my husband playing the private investigator role while we finished running our kids all overtown. He found LaSpada's Pizzeria Facebook page with the menu and some pictures. Wewere sold, that is what we would try for dinner. After all our errands werefinished and our Redbox movie was rented we were ready to decide ourorder. The site said the pizza was homemade Buffalo New York style pizza. Forthose of you that have been to Buffalo and tasted the heavenly flaky crust of an Imperial pizza pie you know I thinking, "we will see about this claim" in Plainfield,Indiana. We decided after serious contemplation that we would just tryeverything we thought sounded tasty since it was our first time afterall. Icalled the phone number and no answer after 5 rings. Panic set in! Was it noteven open yet? Did I have to come up with something else for dinner? Could Isurvive making an decision when all I was thinking was NY style pizza now?After a deep breath I thought "try again maybe they are so good they aretoo busy to even answer". (Hey I have worked in plenty of new restaruantopenings over the years, I know how it can be somedays.) So, I called again. Noanswer. Just as I was starting to muster the courage to admit out loud to thehubby that we would not be getting the "new pizza place inPlainfield", my phone rang. I answered and very nice lady with a New Yorkaccent explained to me that the second phone line had not been put in yet andtherefore they could not answer when they were on the other line so she musthave jotted my number down during the call. She had saved dinner! I proceededto order for our family of four; a full sheet pizza (feeds 6-10) half pepperoniand half mushrooms (after being assured they were fresh and not canned), andorder of bread sticks (8), 3 extra cheese sauces, an order of hot wings withblue cheese, 6 pizza logs with ranch, and 3 ham and cheese logs with honeymustard. Don't judge, I already told you we were excited to try one ofeverything. She told me it would be ready in about 25 minutes. Off to the"new pizza place in Plainfield" we went. I was pleasantly surprisedthat there was actually a decent sized dine in area. I had figured it would bea counter style pick up and go joint like so many other pizza places aroundtown. The whole restaurant smelled amazing and my mouth was starting to water as we weregreeted by two friendly women at the pick up counter. I asked how long they hadbeen in business and she replied, "since Superbowl Sunday". Wow, Iwas instantly impressed by the thought of opening a pizza place on one the busiest dayof the year for ordering pizza. They had guts! Now, it was time to go home and take pictures of the food, as any all social media addicts must do.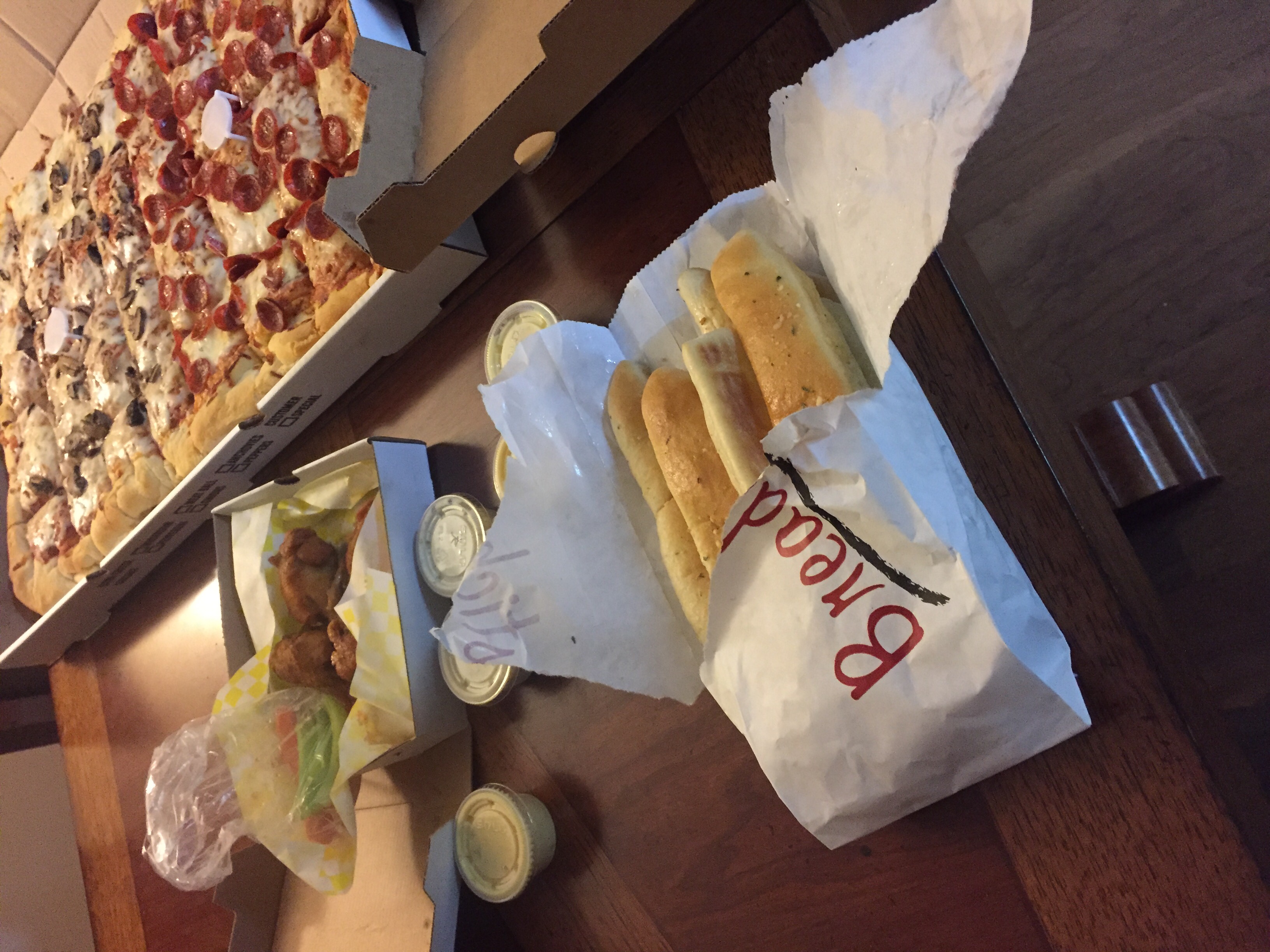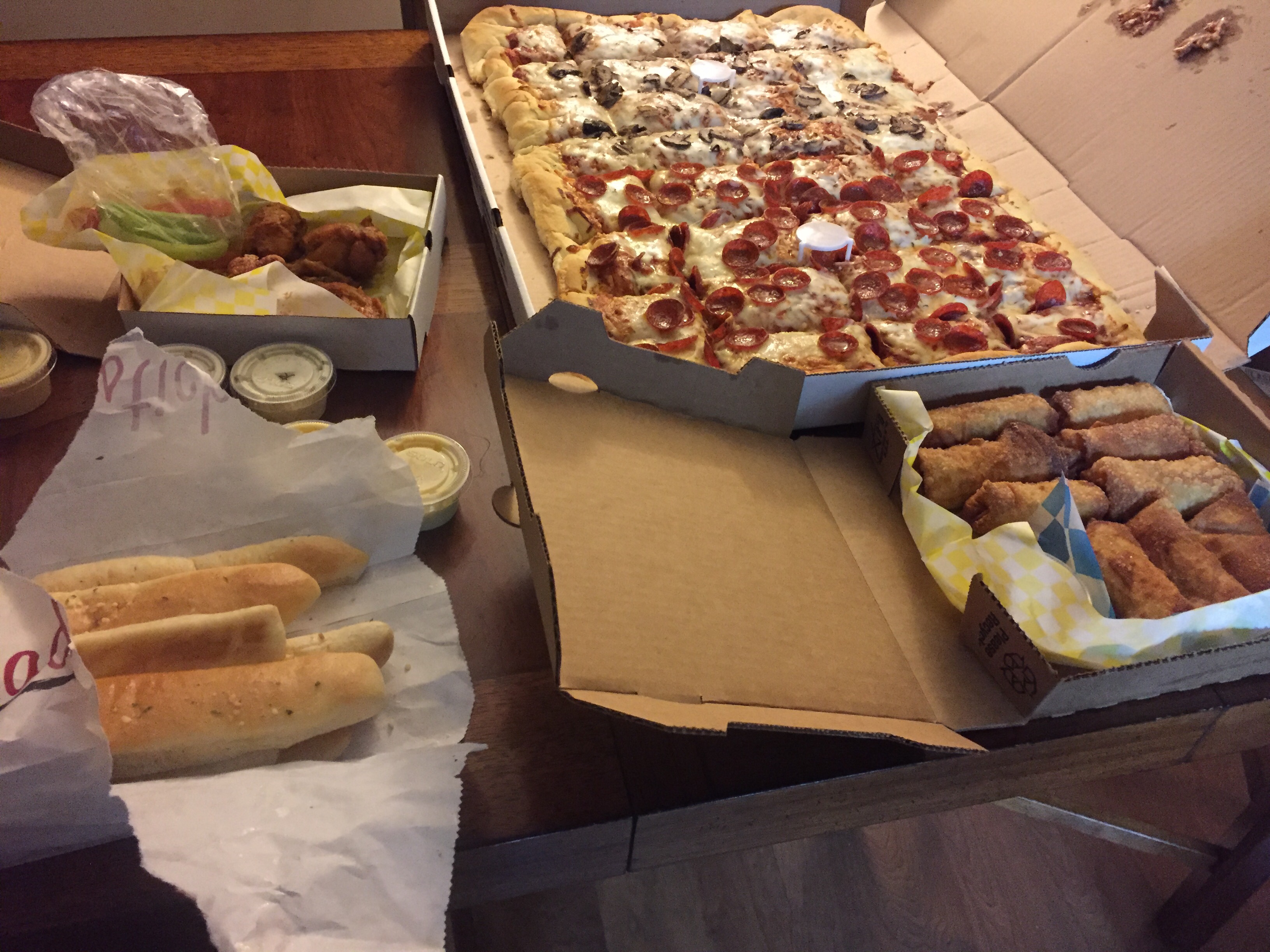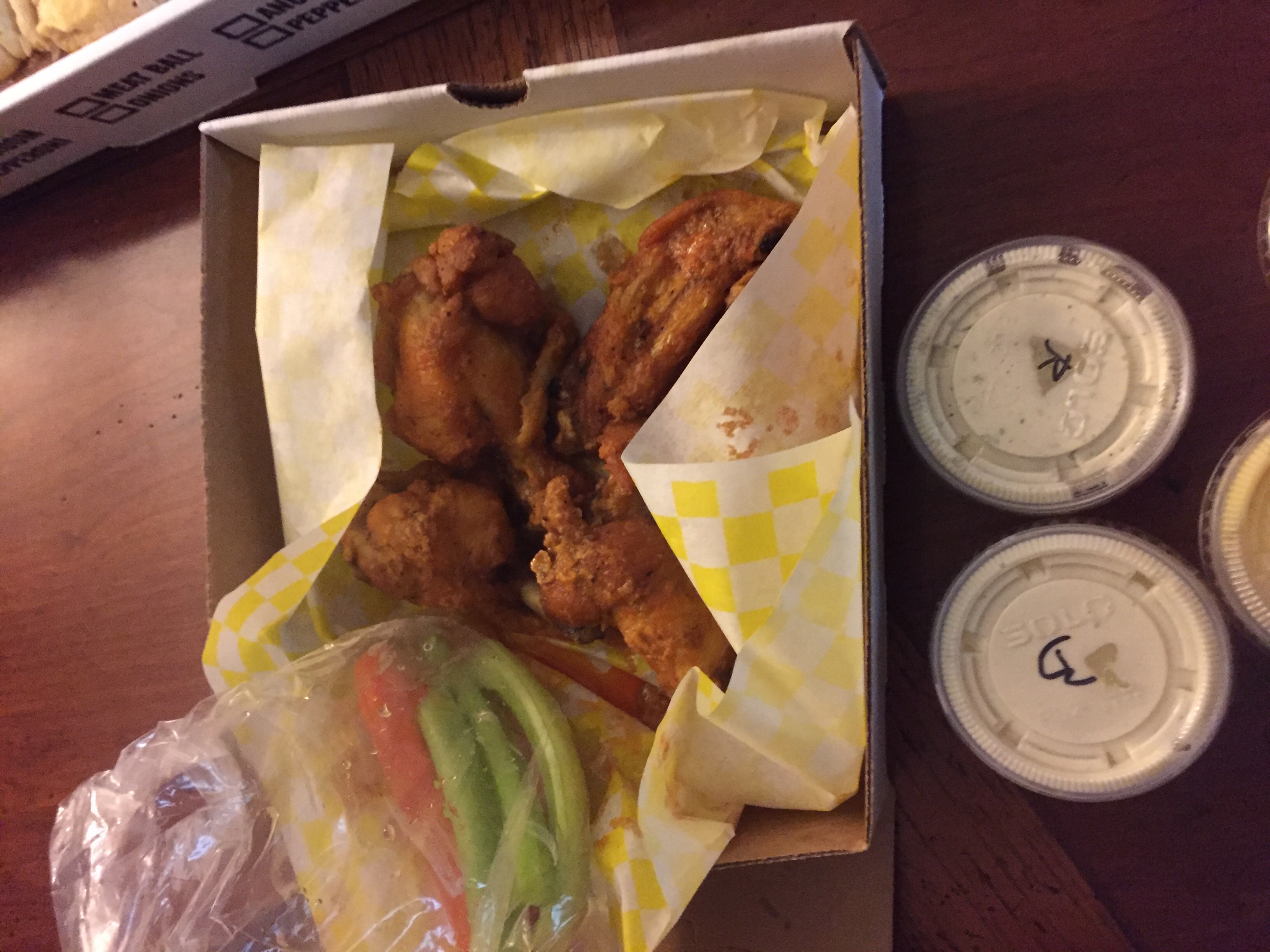 Well, now that was done and it was time to see if everything tasted as delicious as it looked. I can honestly say I had never had anything like the pizza logs, (mozzarella and pepperoni wrapped in an egg roll wrap and deep fried) or the ham and cheese logs (ham and cheddar cheese prepared the same way). They were unique and tasty, not something of a typical pizza place. The homemade ranch and honey mustard were awesome, though the cheese sauce left something to be desired. I definitely suggest ordering extra sauces since there's no way one would be enough for more that one person and there are eight large bread sticks in an order. The wings were crispy and fried as opposed to most pizza places that just send them through an oven to be baked and soggy. The sauce on them was perfect, not too spicy. The pizza was spot on for a Buffalo, NY pizza. The crust was dense yet flaky. The sauce was slightly sweet to offset the saltiness of the thick cut pepperoni covering half of the pie. It was super filling and as I write this blog I am reheating the leftover pizza. So, if you are new to the area or just in for a visit, I recommend stopping by "the new pizza place in Plainfield"; LaSpada's Pizzeria! Let us know what you think after trying it. We would love to know if your experience is as great as our's was.